Now that the summer-y glow is fading from Athens, the Greek capital is beginning to wake up as a hub of cultural life. Take a break from sightseeing tours and strolls around the Acropolis, Monastiraki and Zappeion to check out some of the best exhibitions visiting Athens this fall. Don't let the ancient history, Greek temples, all the Corinthian and Ionic columns at Athens' top-notch museums trick you into thinking there is only history on offer – exploring the vibrant Greek cultural scene is one of the best things to do in Athens (and will cross off one out of the 25 things you absolutely have to do in Athens this fall!).
#1 'Ai Weiwei' at Museum of Cycladic Art | Kolonaki
As we have repeatedly emphasised (both in our museum guide and our older post on Athens' museum cafés) the Museum of Cycladic Art is one of the best and most famous museums in Greece and has a lot to offer the visitor. Beyond the permanent collection, it is currently hosting the Chinese artist and activist Ai Weiwei's first exhibit in Greece. This is one of the most unique things to do in Athens right now, as the exhibit includes many of the artist's most significant works, situated throughout the Museum's impressive collection. You can also see some of Ai Weiwei's new pieces, inspired by and in dialogue with ancient Cycladic art, and created in his studio on the island of Lesvos. Ai Weiwei hopes to draw attention to the ongoing refugee crisis, and his work, especially in the setting of the Museum of Cycladic Art creates a global dialogue between the past, present, and future.
When: 20 May – 30 October | Mon, Wed, Fri, Sat: 10.00-17.00, Thu: 10.00-20.00, Sun: 11.00-17.00
Where: 4 Neofytou Douka / Vas. Sophias & 1 Irodotou (Closest Metro Station: Evangelismos)
Admission: € 7
#2 '[OUT] TOPIAS: Performance and Public / Outdoor Space' at Benaki Museum | Pireos Street Annexe
The Benaki Museum is a top Greek tourist attraction (and on our 'must see' list for your 48 hours in Athens), but there is a lot more to it than the main building in the Athens centre. The annexe, on Pireos Street, hosts contemporary collections and travelling exhibits for some of the most quirky things to do in Athens. This exhibit focuses on outdoor and public space, presenting video projects that examine how Greeks use the open space around them, and how Greek cultural production is linked to a tradition of performing in outdoor spaces. The exhibit opened 22 September, and includes contemporary pieces produced this year and last, alongside a packed programme of accompanying events. Check the schedule of parallel activities here to try and catch some of the live performances or film screenings!
When: 22 September – 20 November | Thu & Sun 10:00 – 18:00, Fri & Sat: 10:00 – 22:00
Where: 138 Pireos & Andronikou St. (Closest Metro Station: Keramikos)
Admission: € 7 (standard), € 3.50 (reduced)
#3 'Yannis Moralis & Christos Kapralos: Friendship in Life and Art' at Stavros Niarchos Foundation Cultural Centre | Kallithea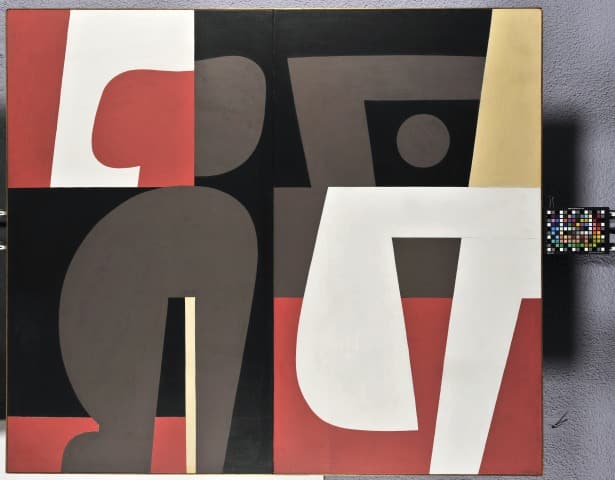 The brand new Stavros Niarchos Foundation Cultural Centre is wasting no time establishing itself as among the top cultural centres in Greece, and one of its newest exhibits collaborates with the National Gallery to present the work of two seminal Greek artists, Yannis Moralis and Christos Kapralos. The two became friends while studying at the Athens School of Fine Arts, then both worked in Paris exploring modernism, until they finally became neighbours on the Greek island of Aegina. This exhibit presents 50 masterpieces by Moralis, accompanied by bronze sculptures by Kapralos, which trace the artists' careers as well as their relationship throughout their lives. This exhibition is a great excuse to visit the Cultural Centre, which is one of the top new local attractions, and also one of the best things to do with kids, as the complex has lots of green space for exploring and a huge lineup of events (check here for what's new).
When: 21 September – 18 December | Mon-Sun 9:00 – 22:00 (park open 06:00 to 20:00)
Where: 364 Leoforos Syngrou (Shuttle from Syngrou-Fix Metro Station every 30 minutes)
Admission: Free!
#4 'Hubs of Nature' at Metamatic:taf | Monastiraki
If you haven't yet discovered TAF (the art foundation) you are missing out not only on one of Athens' best bars and cafés, but also a great place for interesting contemporary art. The interlinking courtyards of this space, in 19th century houses in Monastiraki, are currently hosting an exhibit focusing on nature and the urban landscape. By following a self-guided walking tour throughout the exhibit area, the artists try to create a route to real and imaginary spaces, and allow the viewers to rethink how they relate to nature and their urban environment. Hanging out at TAF is one of the best things to do with friends in Athens – grab a coffee or a drink and peruse the galleries. Even after this exhibit closes, there will always be something unique to check out! Check the website for details.
When: 22 Sept – 16 October | Mon-Sat 12:00 – 21:00, Sun 12:00 – 19:00
Where: 5 Normanou (Closest Metro Station: Monastiraki)
Admission: Free!
#5 'Dodona: The Oracle of Sounds' at the Acropolis Museum | Acropolis
The Acropolis Museum, another Athens must-see, began last year to host special exhibits from around Greece, to complement the incredible permanent collection and encourage you to explore the rest of the country (we can help you on that one too with our hand-picked selection of day trips and excursions from Athens!). The focus of this exhibit is Ancient Greece's oldest oracle, presenting how it worked, its importance in the Ancient world, and how prophesies have developed throughout history. This oracle is especially mysterious because it was based around a 'prophetic oak tree,' whose rustling leaves revealed answers about the future. Priests also read the future in the sound of bronze cauldrons and the cooing of pigeons. In addition to showcasing artefacts from the area around the oracle, near Ioannina in Northern Greece, the Museum's fantastic restaurant will feature local food from that region during the exhibit.
When: 20 June – 10 Jan 2017 | Mon 8:00 – 16:00, Tue-Thu 8:00 – 20:00, Fri 8:00 – 22:00, Sat & Sun 8:00 – 20:00
Where: 15 Dionysiou Areopagitou (Closest Metro Station: Acropolis)
Admission: € 3
#6 'Costantinos Pittas: Images of another Europe 1985-1989' at Benaki Museum | Pireos Street Annexe
Remember the Benaki Museum we mentioned above? Another of the top art exhibitions in Athens will be on its way here soon. This exhibit focuses on the photography of Costantinos Pittas, who travelled across Europe from 1985 to 1989, photographing both sides of the Iron Curtain. His initial plan was to show through his photos that 'the common ground of this divided Europe was its own citizens and their everyday life,' but the collapse of the Berlin Wall in 1989 made him believe his project was irrelevant, and he began to doubt his own artistic eye. As a result, he buried the negatives – until now. This is the first time they will be seen in public, at a time when the 'common ground' among Europeans remains as pressing as ever.
When: 29 Sept – 20 Nov | Thu & Sun 10:00 – 18:00, Fri & Sat: 10:00 – 22:00
Where: 138 Pireos & Andronikou St. (Closest Metro Station: Keramikos)
Admission: € 7 (standard), € 3.50 (reduced)
#7 '"VOYAGE"- Seafaring and Shipbuilding in Greece from Antiquity to Modern Times' at Herakleidon Museum | Thissio
For those craving a little salty sea air, head over to the Herakleidon Museum to get hands on with thehistory of Greek seafaring and shipbuilding. The exhibit is designed to allow you to travel back in time and discover the relationship between Greeks and the sea. A visit to this museum is one of the more unusual things to do in Athens as it's a bit off the beaten path, but you'll be rewarded with a close-up view of more than 40 handmade wooden models of Greek ships, from ancient history until the mid-20th century, along with modern prints inspired by the Aegean Sea. For the tinkerers or engineers out there, the exhibit also includes an interactive version of the Antikythera Mechanism, the mysterious ancient computer prototype discovered in a shipwreck. This museum is a great family activity (more fun things to do with kids here!), as there's lots of opportunity for hands on exploration. Plus, its location in Thissio means you are in a great spot to continue a day of sightseeing with one of our city tours or a tour for foodies and to enrich your travel experience with more historical things to see in Athens, besides the Acropolis and a stroll to awesome alternative Athens' neighborhoods!
When: 1 Oct – 28 May 2017 | Mon – Wed, Fri – Sun 10:00-18:00, Thu 10:00-20:00
Where: 36 Apostolou Pavlou Str (Closest Metro Station: Thiseio)
Admission: €6 (standard), €4 (reduced)
#8 'Odysseys' at National Archaeological Museum | Omonoia
One of the world's best museums, the National Archaeological Museum, is opening its newest exhibit in just a few days, to celebrate the museum's 150th anniversary. This exhibit will be an Athens must-see for the next year: it explores the theme of 'Odyssey,' based on Homer's legendary epic poem, and presents an unparalleled collection inspired by humanity's journey through time. Some of the museum's best-known pieces will be included, accompanied by lesser known items and loans from other museums, all arranged thematically around three ideas: the 'journey,' 'Ithaca' (inspired by Odysseus' longing and devotion to home), and 'outlets' (how the human spirit strives to create). The multimedia exhibit includes excerpts from iconic Greek poets and musical soundtracks for each theme to help the visitor embrace and explore the symbolism and universality of the experience. Bonus: Some of the top museums around the world are celebrating the 150th Anniversary by lending some of their most iconic pieces, including Rodin's 'Le Penseur,' so don't miss this chance to see more contemporary art interacting with ancient masterpieces.
When: 3 Oct – 30 Sept 2017; Mon – Sun 08:00-20:00
Where: 44 Patision (Closest Metro Station: Omonia)
Admission: €10 (standard), €5 (reduced)
And with that, go out and explore! Get beyond Athens' best museums to discover the vibrant modern art & culture that Greece has to offer.
P.S. As always, all opinions expressed in this post are purely personal, and not meant to promote in any way!
P.S.2: Cover pic (courtesy of the Museum of Cycladic Art) is from the Ai Weiwei exhibition.
via: thetravelporter.com